Welcome! Hi, Jacqueline here, born and raised in Uganda, East Africa and now residing in Illinois, a small community that has brought me to quietly discover myself through the exploration of Sustained Movement through breathe and Meditation. Mom of three very energized children and wife to a supportive partner, I have had to stumble my way into my own. I have had to learn some lessons in this school of hard-knocks, lol. My past experience in pursuing a career in Modeling and Acting was a huge part of that too.
It was such a joy having grown up in Uganda. Though it had it's fair share of enlightenment, there is still plenty of growth to be had. This blog is my effort in sharing my journey. Join me as we dive into depths of growth through exploration of body, mind, spirit and soul through Yoga while giving back to those that need it most.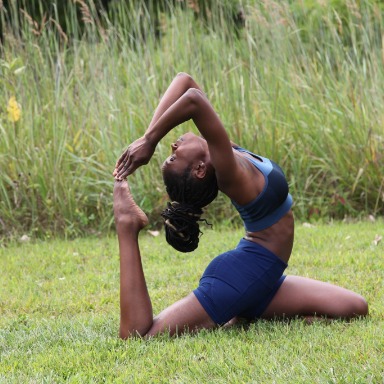 Nurture all life under love eternally...
Starting with YOU:)
Meditation brings a balance in my life that I never imagined possible. I have made my fair share of mistakes in this life and It is through meditation that what one would call prayer, and stillness, contemplation emerges at it's best. I am learning to forgive myself for enduring and accepting what did not nurture and is not nurturing my soul through the practice of meditation. I love being still and at peace during meditation. I do pray too! The two are completely different in the sense that prayer we speak to God, whilst meditation we listen to God. I am also learning to accept what I cannot change and have no control over. Sanity is my friend!:)
Yoga is an important part of life for many reasons. For me it has given me strength, confidence and a sense of purpose so to speak.
My love for yoga stems back to my first pregnancy... I experienced such intense Postpartum that my slice of heaven was the time I put in when on the mat practicing Yoga asanas. Now, my practice is consistent because my soul body and spirit is filled with so much joy every time I experience it. I can not say the same when my body is exhausted, though because then, I listen and give myself a break.
 Photo credit: @nalule1


Welcome... We are human beings filled with emotions running raw as we find our way through this quarantine time. And I must say, it is a doozy! We are now in week three and I am…
March 30, 2020